Wow, what an amazing response! Thanks, everyone, for entering the giveaway and giving me input on the bias tape you use. Since I had so many comments, I decided to make the giveaway even better!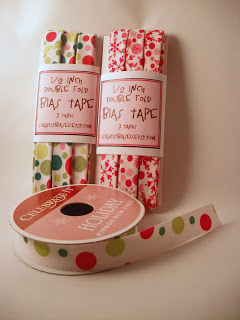 For our first winner, I added a mostly-full spool of ribbon that matches the dots bias tape exactly. Seriously. It's uncanny. I found it in my stash and nearly squealed when I saw how perfectly it matched. The winner is #215, Genevieve!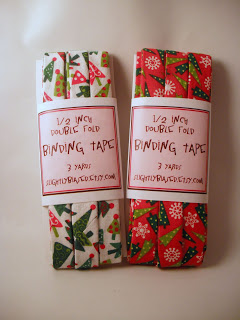 Our second winner will receive two adorable packs of Christmas tree binding tape (not cut on the bias). The winner of this set is #21, Margaret! Congratulations! I'll send you each an email to get your mailing address shortly.
If you weren't one of the lucky winners but you still want some pretty bias tape, we're having a 10% discount on the entire store through the weekend. Use the coupon code SMSDEC10 to get your discount. I'll be adding more inventory daily, so make sure and check back often!
I learned a lot from all of your answers. One of the most common answers was that many of you aren't familiar with how to use bias tape or aren't sure if you're using it right. I'll pool together some bias tape resources about different types and how they are used. You also had some great suggestions (gingham bias tape, anyone?). Be on the lookout for some exciting additions to the store soon!