This post is a continuation of the previous half square triangle post, where we sewed our HSTs but did not trim them yet. Here's how you do it!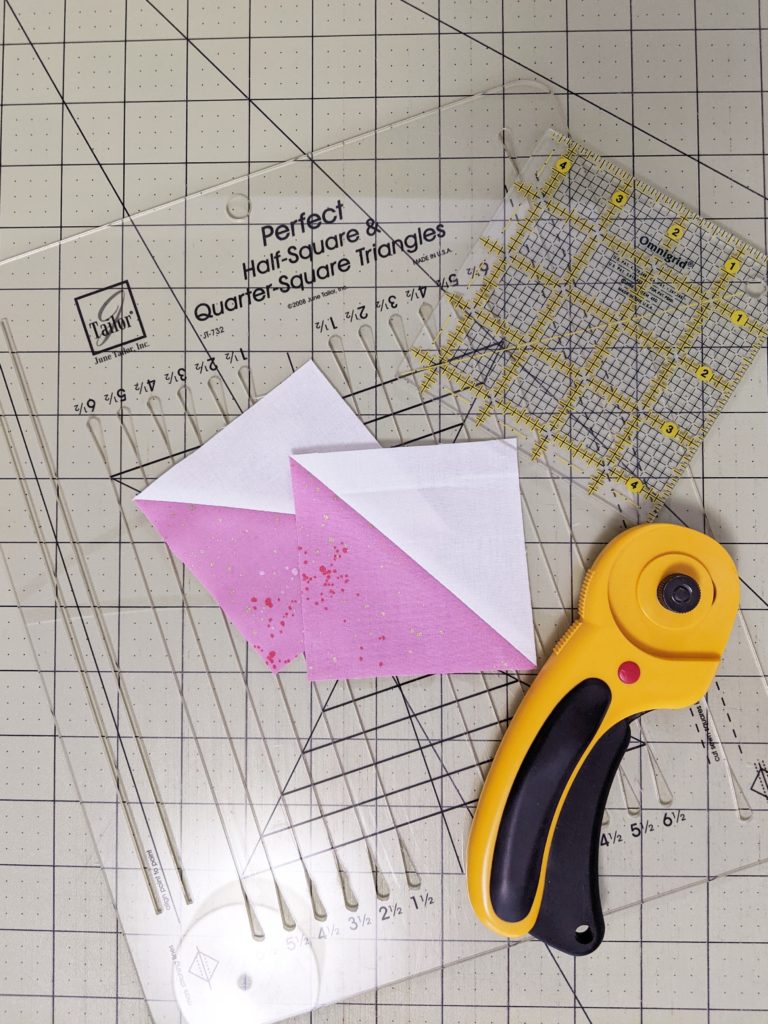 There are all kinds of tools to help you make or trim your HSTs. Some of them I don't have on hand, so I can't demonstrate them, but I will mention them here. The first that comes to mind is the BlocLoc, which is a really popular square ruler that has a valley down one side of the diagonal. If you press your seams to one side, you "lock" the seam into the valley and quickly trim all four sides of your HST. The downside to this method is that the rulers are expensive, and you need a separate ruler for each size of HST that you want to trim.
Another useful tool on the construction side is the Thangle, which is pre-printed paper for quickly paper piecing your HSTs. If you don't like cutting a ton of squares for your HSTs, you can cut strips and sew together many HSTs at once. If you really want to be challenged, Elle in the DC Modern Quilt Guild wrote up a many-at-a-time HST method that looks even faster, and also doesn't have bias edges.
I'm going to talk here about using your typical square ruler, and a fun HST ruler that is my absolute favorite.
If you have a regular old square ruler, you'll notice that you have a diagonal line on it. Take your diagonal line and line it up on the diagonal of your HST. If your ruler is larger than your HST, that's ok – check your measurements that your HST falls within the size you expect. For example, for a 3″ HST, your unfinished size is 3.5″, so you want to make sure the square at least covers up to the 3.5″ mark on your square.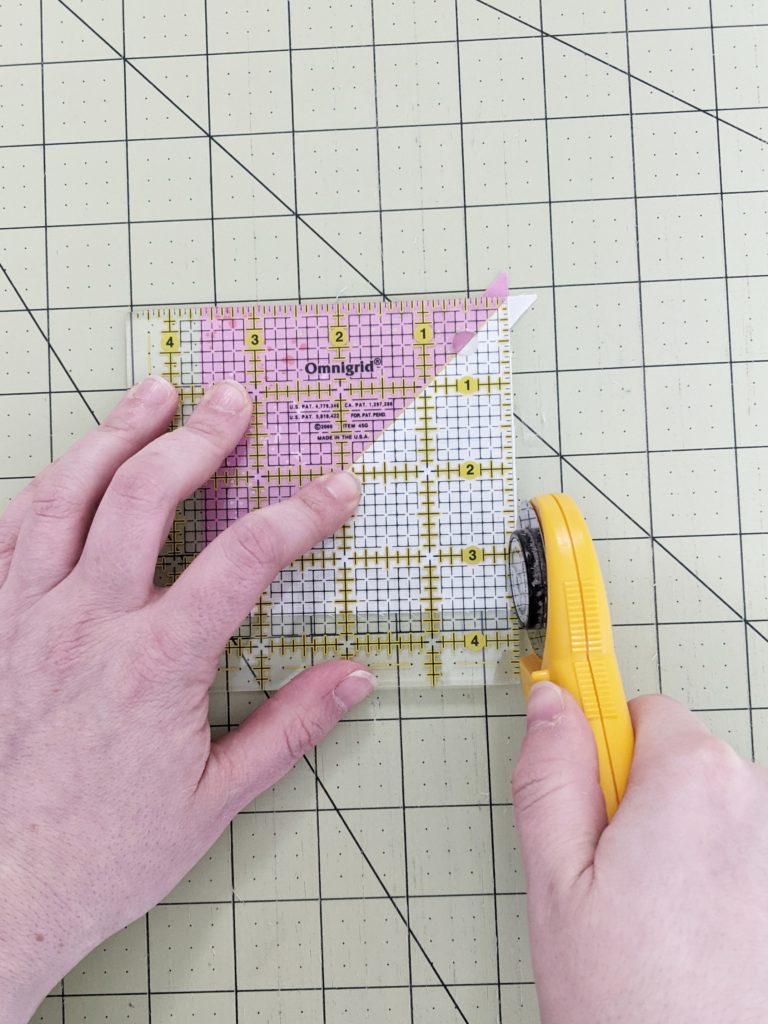 Trim the top and right size, rotate your HST around 180 degrees, and repeat on the side and bottom, this time lining up the opposite edges to exactly the unfinished size you want. The downside of this method for me personally is trimming the top – I don't like trimming in this direction as it seems very awkward to me.
Another tool that I have on hand is the Perfect Half Square and Quarter Square Ruler by June Tailor. This is one of my favorite tools that I own. It trims any size HST up to 6″ finished, and the big advantage is that you're cutting sides each time, instead of cutting horizontally along the top.
With this tool, you also line up the diagonal of the HST along the diagonal line on the tool. Make sure the top and bottom line up outside the black horizontal lines and then trim the right and left sides. Rotate your block 90 degrees and repeat.
And that's it! Once you have your HSTs trimmed, you're ready to start assembling blocks for your quilt, whatever pattern it is that you're making.
Are there any other tools that you like to use for HSTs?